Shrimp Beignets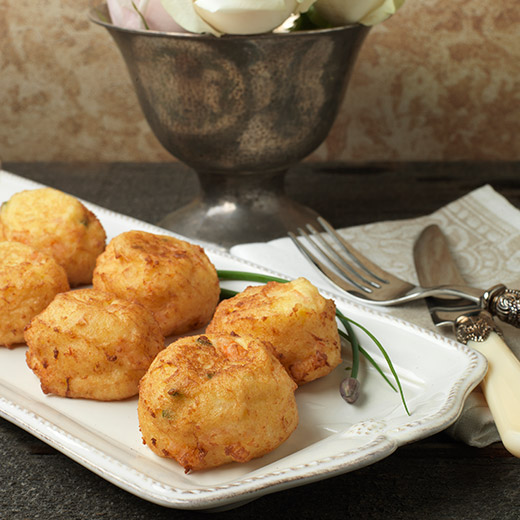 Yield: 6 as an Appetizer
Prep: 5 minutes | Cook: 20 minutes
Total Time: 25 minutes
Ingredients
1 cup Whole Milk
1 stick unsalted butter
2 tsps salt
1 cup all purpose flour
4 Eggs
2 Tbsps chives, chopped
1 ½ cups fully cooked, minced shrimp (about 1 lb), cold
2 qts Vegetable oil for frying
Preparation
Bring milk, butter and salt to a boil in a heavy bottom saucepan.
Using a wooden spoon stir in the flour- the mixture will form somewhat of a paste. Cook for about 5 minutes over low heat.
Place the batter in a bowl of a standing mixer fitted with a paddle attachment. Beat the eggs one at a time into the dough. Add chives and shrimp and mix until smooth.
Pour the oil into a large enough pot to hold the 2 quarts of oil leaving at least half of the pot space open for frying. When the oil is ready for frying, test a piece of batter and it should bounce in the oil and sizzle. Oil should not smoke. Temperature should be between 325-350 degrees.
Drop the batter into the oil using a small scooper or tablespoon. Fry the beignets until they are golden and puffed up like a golf ball. Remove from the oil and place on a paper towel lined sheet pan.
Keep beignets warm in a 325 degree oven or serve immediately.
Take a look at our recommended pairing below.
Pairing Recommendations - Bubbles