Whipped Goat Cheese and Filet Mignon Crostini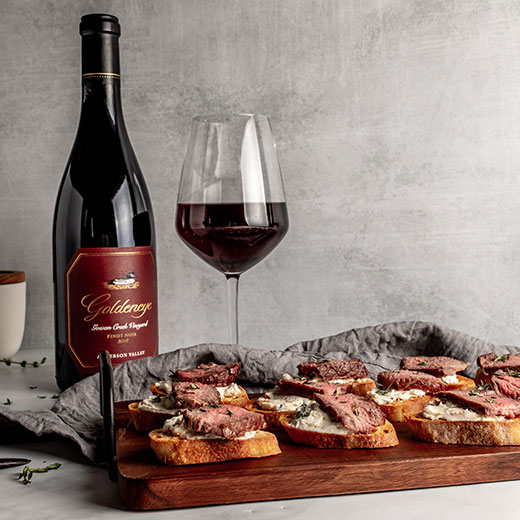 Yield: 12 as an Appetizer
Prep: 2 hours | Cook: 20 minutes
Total Time: 2 hours and 20 minutes
Creator: The Whisked Away Kitchen
Ingredients
Whipped Goat Cheese:
8 oz goat cheese, room temperature
4 oz cream cheese, room temperature
2 tbsp softened butter
1 clove garlic
1 tsp prepared horseradish
1 tsp red pepper flakes
1 tsp fresh thyme
Filet Mignon:
2 (8 oz) filet mignon
Salt to tast
1-2 tbsp vegetable oil
Crostini:
2 baguettes, cut into ½ inch slices on the diagonal
4-5 tbsp olive oil
Salt to taste
Preparation
Whipped Goat Cheese:
Pulse all ingredients in a food processor until smooth and creamy. Store in the refrigerator until ready to use.
Filet Mignon:
Generously season the steaks on all sides with salt. Place on a pan fitted with a wire rack in the fridge uncovered for up to 24 hours (and at least 2 hours).
Preheat the oven to 250 F.
Place a wire rack on a rimmed baking sheet and place the steaks on top. Cook the steaks until they reach an internal temperature of approximately 10 degrees below your desired doneness. For example, medium-rare steaks are ready at 130 F so you would want to remove them at 120 F. Start checking the temperature after 25 minutes.
Remove the steaks from the oven. Heat the vegetable oil in a heavy-bottomed skillet over high heat.
When the skillet is hot and the oil is almost smoking, begin searing the steaks. Sear the steaks for two minutes in total, turning every 30 seconds to cook evenly. Briefly sear the sides of the steaks as well. Reduce heat if the skillet begins to smoke.
Remove the filet mignon to a plate and allow to rest for at least 5 minutes before slicing.
Crostini:
Increase oven temperature to 400 F.
Brush both sides of the baguette slices with olive oil and sprinkle with a bit of salt.
Bake for 8-10 minutes or until crispy and golden.
Top each crostini with whipped goat cheese and a slice of filet mignon. Sprinkle with additional red pepper flakes and fresh thyme if desired.
Take a look at our recommended pairing below.