Wine Tasting Experiences
We're Open!
For those in search of a sublime and soulful wine travel experience away from the bustle of California's more established wine country, the Anderson Valley has become a must-visit destination. Goldeneye wines are made to reflect both the natural elegance of the Anderson Valley and its deep, rustic power.
The classic Essentials Tasting features current release Goldeneye wines, as well as selections from sister winery Migration.
Reserve Essentials Tasting Reserve Elevated Tasting
Essentials Tasting - $15/person + tax - By Appointment Only
Showcasing the versatility of our single vineyard Pinot Noirs, this tasting includes our current-release wines as well as selections from our Migration label. Relax and take in the unforgettable scenery - with our airy interiors, outdoor settings and vineyards, we provide social distancing quite naturally!
For the well-being of our guests and staff, we will be implementing the California Wine Institute guidelines, including:
Plan Ahead. Reservations are required for all wine tastings
Signature. A liability waiver for your party must be completed prior to tasting
Outdoor Only. At this time ALL wine tastings will be conducted in outdoor settings
Cover-Up. Face coverings are required for all guests except when seated
Small Parties. Reservations will be limited to a maximum of four people (this includes children)
Cards Only. Credit or Debit payments only
Rest Assured. We have implemented additional protocols for everyone's well-being
We can't wait to welcome you for a respite of fresh air, connection and world-class wines in your glass!
Wine Club Membership: All club members receive complimentary wine tasting experiences for up to four adults, with member present.
Questions: If you have additional questions about tasting availability, please call (800) 208-0438 or email reservations@goldeneyewinery.com.
All Tastings by prior appointment only
---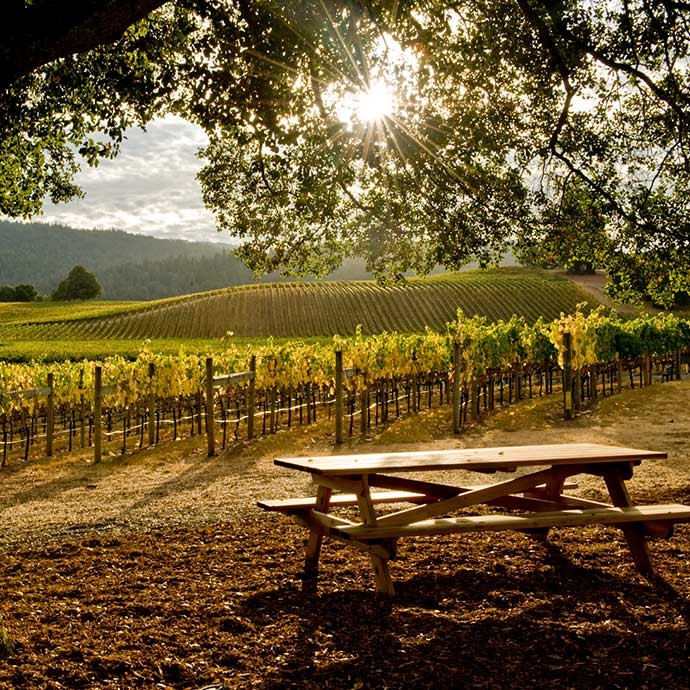 Goldeneye Picnic Under the Oak - $45 + tax
Enjoy a delightful picnic under our beautiful Black Oak tree overlooking Confluence Vineyard. The picnic includes our favorite wine country selections below. (Weather Permitting.)
Picnics include:
Charcuterie
Cheese
Fig Spread
Crackers
Fresh, seasonal fruit
Olives & something sweet!

$45 - wine is sold separately
Offered 10:30 a.m. – 3:00 p.m.

Reservations required
Please contact us at (800) 208-0438 or email reservations@goldeneyewinery.com to make your tasting arrangements for this experience.
Elevated Tasting Experiences - Currently Not Available
Diving deeper into our renowned Goldeneye portfolio, we offer elevated tasting experiences at varying prices. These experiences range from private to semi-private while offering limited, behind-the-scenes access to barrel samples and a more personalized, picnic experience with several wine country delights. Each of these tastings is curated to create a unique and memorable experience, advance reservations are required.
To reserve call (800) 208-0438 or email reservations@goldeneyewinery.com. These experiences cannot be booked online.
---
5-6 Guests
In accordance with space restrictions, we can accommodate groups of 5-6 guests on a limited basis for bottle service only at this time. Advanced group reservations help us provide the best tableside service for your party, all tasting arrangments for groups must be booked in advance.
To request a group reservation, call (707) 895-3202 or email reservations@goldeneyewinery.com.
---
Make Your Next Reservation
Visit Our Other Wineries