Rustic Mushroom Stuffing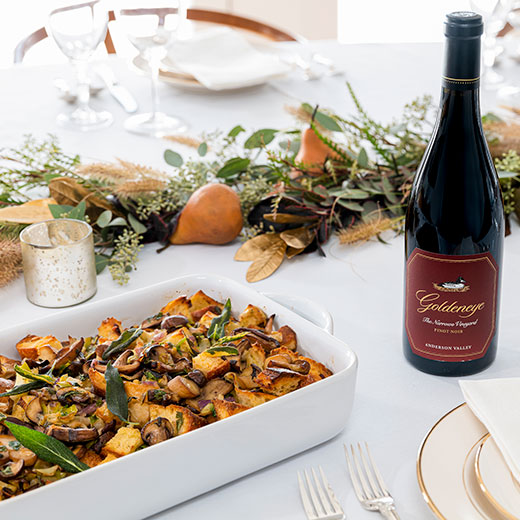 Yield: 8-10 servings
Prep: 15 minutes | Cook: 45 minutes
Total Time: 1 hour
Ingredients
1 loaf Artisan French or sourdough bread - cut into 1 inch cubes
1 leek - cleaned and thinly sliced
1 fennel bulb - halved, cored and thinly sliced
1 ½ lbs wild mixed mushrooms - sliced or quartered
3 garlic cloves - chopped
⅓ cup fresh parsley - chopped
2 tbsp sage - chopped
⅓ cup white wine
2 eggs
2-3 cups chicken or vegetable broth
½ cup parmesan
4 tbsp butter
4 tbsp olive oil
Salt and freshly ground pepper
1 cup toasted walnuts or other nut - chopped (optional)
Preparation
Heat oven to 375 F.
Place bread cubes on the sheet pan and cook for 10-15 minutes until crisp on the outside but still a bit soft on the inside. Set aside to cool.
Prepare all vegetables and herbs.
Melt butter and olive oil in a large skillet over medium heat. Add leeks, fennel, salt and freshly ground pepper - cook for 3-5 minutes. Add mushrooms and garlic and continue to cook for another 5 minutes. Deglaze pan with wine. Add fresh herbs and another pinch of salt and pepper. Transfer to a large bowl.
Toss bread cubes with vegetable mix.
In a small bowl whisk eggs with 2 cups of broth. Add to vegetable/bread mixture, mix well, add parmesan cheese and walnuts - toss. If bread seems to dry add more broth. Transfer to a buttered 9 x 12 inch baking dish.
Cover with foil and bake for 25 minutes, remove foil and bake for another 20 minutes or until golden brown on top.
Take a look at our recommended pairing below.