Orange Glazed Duck Breasts with Celery Root Puree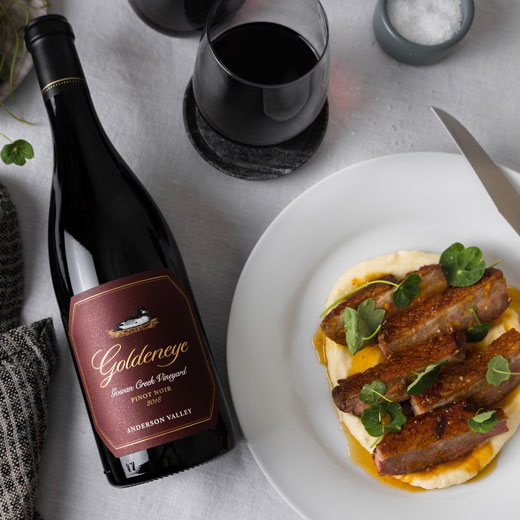 Yield: 2 servings
Prep: 10 minutes | Cook: 1 hour
Total Time: 1 hours and 10 minutes
A beautifully sumptuous wine needs an equally nuanced dish like this orange glazed duck with celery root. Just enough acidity and supple tannins dance perfectly with fatty, umami rich duck and creamy celeriac while ginger and five spice play off subtle spice notes in the wine.
Ingredients
1 whole duck breast (two pieces)
2 small celery root (~1 quart diced)
1 pint heavy whipping cream
1 oz fresh ginger, sliced
¼ cup honey
1 cup orange juice
Zest of one orange
A pinch of Chinese Five Spice Powder
Salt to tast
Preparation
Start by making the glaze: combine the ginger, honey, orange juice and five spice powder in a small sauce pot. Bring to a boil then immediately reduce to a simmer. Simmer for 20-30 minutes or until reduced heavily and thickened. Strain out the ginger and discard, then stir in the orange zest - set aside to cool.
To make the celery root puree, gently cook the peeled and diced celery root in the pint of cream until the celery root is tender. Transfer to a blender with a pinch of salt and blend until smooth.
Take the duck breasts out and allow them to come to room temperature. Score the skin with a sharp knife and season liberally with salt on both sides.
Bring a large cast iron or non-stick pan up to medium heat. Gently place the duck breasts in the pan, skin side down, and cook for 10-15 minutes allowing the fat to render out and crisp the skin. Baste the duck breast with their own rendered fat until desired internal temperature is achieved (135° for medium rare). Remove the breasts from the pan and allow them to rest for 5-7 minutes.
Slice the duck breasts and liberally spoon the glaze over before serving over the warmed celery root puree.
Take a look at our recommended pairing below.