Hushpuppies and Pimento Cheese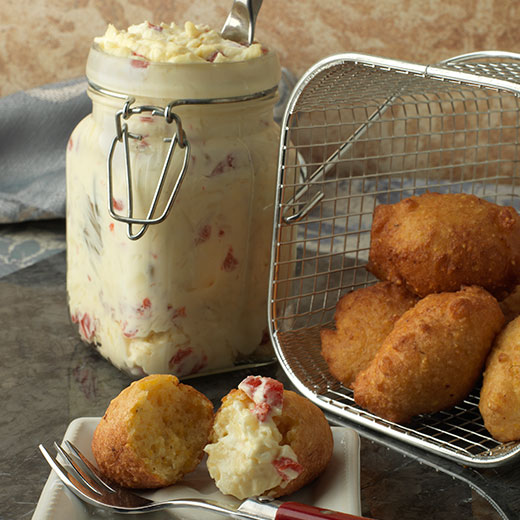 Serves: 6 as an appetizer
Ingredients
Hushpuppies:
1.5C Cornmeal, fine
1C All-purpose flour, sifted
1t Sugar
1/2t Baking powder
1/2t Baking soda
1t Salt
1/2t Black pepper ground
1/2t Cayenne pepper
1/2t Onion powder
2 Eggs
1.5C Buttermilk
1/4C Green Onions, thinly sliced
Pimento Cheese:
1C Cheddar, at room temperature
1⁄2 - 6-oz. jar Pimentos, drained and chopped
1T Mayonnaise
1T Pickle Juice
2T Cream cheese
1t Salt
1t Black pepper
1t Cayenne, ground- optional

Preparation
Hushpuppies:
With a stand mixer or by hand whisk cornmeal, flour, sugar, baking powder, baking soda, salt, pepper, cayenne pepper and onion powder together. Add eggs and buttermilk and whisk until smooth. Refrigerate for 15 minutes or up to 4 hours. Fold in sliced green onions when preparing to fry. Pour the oil into a large enough pot to hold the 2Qts. of oil leaving at least half of the pot space open for frying. When the oil is ready for frying, test a piece of batter and it should bounce in the oil and sizzle. Oil should not smoke. Temperature should be between 325-350 degrees. Using a large tablespoon, drop rounded spoonfuls of batter into oil about 8 to 10 hushpuppies per batch. Fry for about 3 minutes and lay onto paper towel or metal cooling rack. Serve immediately with pimento cheese.
Pimento Cheese:
Combine all the ingredients in a mixing bowl and mix by hand for a rough consistency or whip with paddle attachment for a more creamy consistency. (Hot sauces can be omitted or used generously at your whim).
To Serve
Serve immediately.
Take a look at our pairing recommendation below.
Pairing Recommendations - Pinot