Mushroom Soup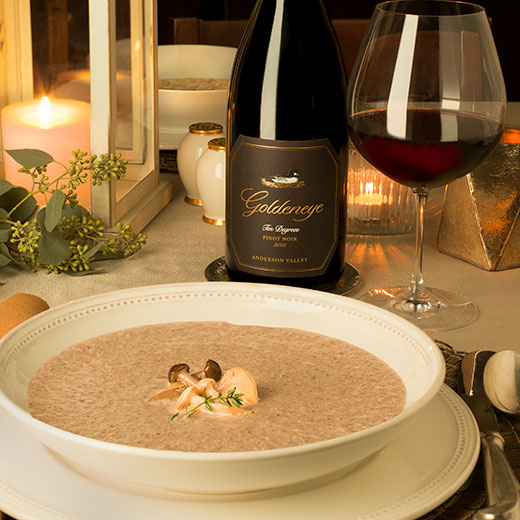 Yield: 4 - 6 servings
Prep: 10 minutes | Cook: 30 minutes
Total Time: 40 minutes
Ingredients
½ -1 cup dried mushrooms
2 lbs mixed mushrooms
3 shallots - chopped
1 celery stock - chopped
1 tsp fresh thyme leaves
¼ cup Duckhorn white wine
1 medium potato - yukon gold peeled and cut into small cubes
1 cup chicken stock
½ cup milk or cream
1 Tbsp olive oil
1 Tbsp butter
Salt and pepper
Preparation
Bring 2 cups of water to boil. Place dried mushrooms in a heavy glass bowl and cover with hot water, set aside. Clean, trim and chop mushrooms, set aside in bowl.
Heat olive oil and butter in a large soup pot over medium heat. Add shallots, thyme and a pinch of salt and pepper, cook for 3 minutes until they begin to brown, add celery and cook 2 more minutes.
Add the fresh mushrooms and another pinch of salt and pepper. Also, you may need to add another drizzle of olive oil, cook for about 5 minutes, until mushrooms soften.
Remove dried mushrooms from the water (reserve liquid), chop and add to cooked mushrooms, increase heat.
Add ¼ cup Duckhorn white wine. Pour reserved liquid from mushrooms into pot, add potato and stock, reduce to simmer for about 15 minutes until potato is tender.
Remove from heat and puree soup with immersion blender.
Add milk or cream, simmer for 5 more minutes, adjust consistency, if too thick add more stock or milk. Taste and adjust seasoning if necessary.
Take a look at our recommended pairing below.
Pairing Recommendations - Pinot