Grilled Vegetable Stacks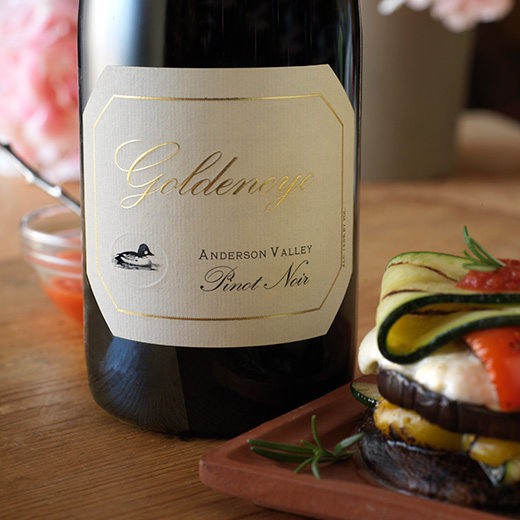 Yield: 4 as a side; 4-6 as an entrée
Prep: 10 minutes | Cook: 15 minutes
Total Time: 25 minutes
Ingredients
4 medium (about 3 inches in diameter) Portobello mushrooms, dark gills scooped out
1 red bell pepper, quartered lengthwise
1 yellow bell pepper, quartered lengthwise
4 slices medium to large zucchini, cut into rounds
4 slices medium eggplant, cut into rounds
Olive oil
Salt (preferably kosher or sea salt) and freshly ground pepper
1 cup Roasted Tomato with Balsamic Savory Condiment
4 rosemary branches 4-5 inches in length, bottom two-thirds of leaves removed
Preparation
Prepare the grill.
Brush the vegetables with olive oil, season with salt and pepper to taste, and grill each vegetable until done.
Turn each mushroom upside down on a flat surface to use as the base for the stack, then layer with a slice of yellow pepper, a slice of zucchini, red pepper, mozzarella, and eggplant.
Place the stacks on the grill off the side, close the lid and cook until the cheese starts to melt (alternatively, the stacks can be heated in a 400°F oven for 10 minutes.)
Remove from the grill, then poke a rosemary sprig through the middle of each stack with the leaves at the top of the stack.
Heat the Roasted Tomato with Balsamic Savory Condiment in a small saucepan over medium heat.
Spoon ¼ cup in a pool on each of four salad plates. Top with a vegetable stack. Serve immediately.
Take a look at our recommended pairing below.
Pairing Recommendations - Pinot