Grilled Pork Tenderloin with White Truffle Oil, Shiitake Mushrooms and Blue Cheese Sauce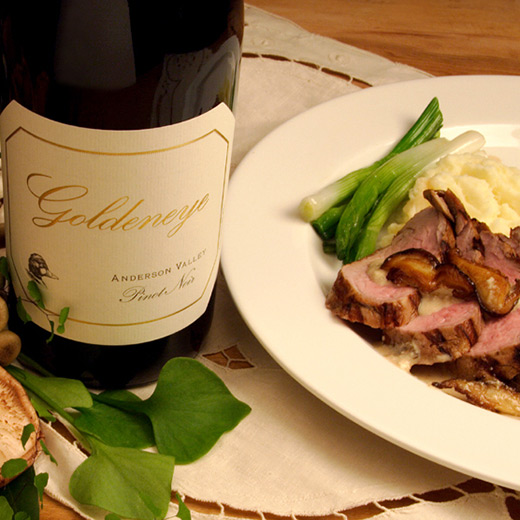 Yield: 4 servings
Prep: 30 minutes to 4 hours | Cook: 30 minutes
Total Time: 3 hours and 30 minutes
The key to amazing flavor is time! So while this may not be the fastest recipe, grilling low and slow is a tried and true way to capture the perfect crust ouside and tender pork on the inside. A great alternative to chicken when you feel like you're in a recipe rut, this meal paired with mashed potatos is one the whole family will enjoy. Pair with a glass of Goldenye Anderson Valley Pinot Noir to further elevate the flavors.
Ingredients
Marinade:
2 lbs pork tenderloin, visible fat and silver skin removed
2 tbsp white truffle oil
¼ cup raspberry vinegar
2 Tbsps soy sauce
1 tbsp garlic, minced
1 tbsp shallots, minced
Salt and pepper, to taste
Sauce:
4 tbsp unsalted butter
12 Shiitake mushrooms (or a mix of wild mushrooms), sliced
1 tbsp garlic, minced
1 tbsp shallots, minced
¼ cup seasoned rice wine vinegar
¼ cup veal stock (low sodium beef stock may be substituted)
¼ cup heavy cream
4 oz Point Reyes Original Blue Cheese (or other creamy blue cheese)
Salt and pepper, to taste
Preparation
Marinade:
In a bowl, combine the truffle oil, raspberry vinegar, soy sauce, garlic, shallots, salt and pepper.
Place pork tenderloin in a shallow pan, pour the marinade over, and turn to coat. Allow to stand for 30 minutes, covered, at room temperature, or up to three hours in the refrigerator (bring to room temperature before proceeding).
Preheat the grill to medium. Remove pork from marinade and place on grill. Grill, turning frequently, until tenderloin reaches an internal temperature of 145 degrees.
Remove from grill, cover loosely with foil, and allow to rest while preparing the sauce.
Sauce:
In large sauté pan over medium-high heat, melt the butter until foaming subsides.
Add the Shiitake mushrooms, garlic and shallots and sauté for two minutes.
Add the rice wine vinegar and reduce until almost dry. Add the veal stock, heavy cream and blue cheese and reduce to a sauce-like consistency.
Adjust seasoning with salt and pepper. Set aside and keep warm.
Serve
Thinly slice the pork and spoon the sauce over the top. Serve with baked, roasted or mashed potatoes.
Take a look at our recommended pairing below.