Grilled Duck with Asian BBQ Sauce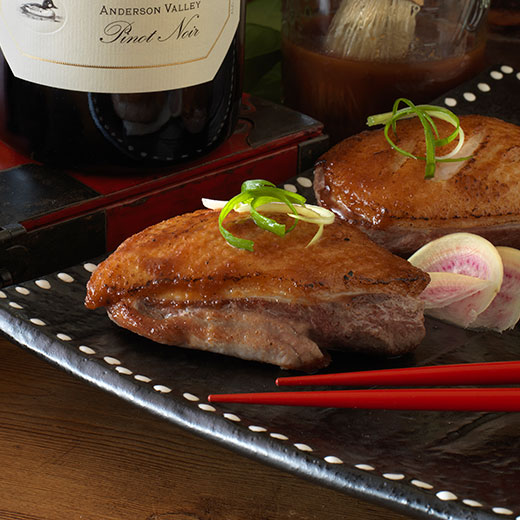 Yield: 3 Cups
Prep: 10 minutes | Cook: 35 minutes
Total Time: 45 minutes
The key to cooking duck is to make sure it's grilled on low heat so the excess fat can melt away, but the meat stays tender and moist. Once the grilling is mastered, try our unique Asian BBQ sauce as a fun twist to add the incredible combo of garlic, soy, ginger and brown sugar to elevate the savory flavors of this dish. Serve with Goldeneye Anderson Valley Pinot Noir for best results.
Ingredients
1 ½ cups Hoison sauce
1 can chopped tomatoes
1 Yellow Onion, chopped
½ cup Ketchup
½ cup Brown sugar
½ cup Soy sauce
4 Garlic Cloves, smashed
1 tbsp Ground or Instant coffee
2 tbsp Ginger powder
¼ cup Mirin
¼ cup Lime Juice
1 tbsp Cornstarch
1 tbsp Fish sauce
Preparation
Combine all ingredients together in blender except lime juice cornstarch and fish sauce and puree until smooth in blender. Put puree in 2‐quart saucepot and simmer for 30 minutes.
Whisk in lime juice, cornstarch and fish sauce, remove from heat and cool. Serve with Grilled Duck.
Take a look at our recommended pairing below.