Grilled Duck with Asian BBQ Sauce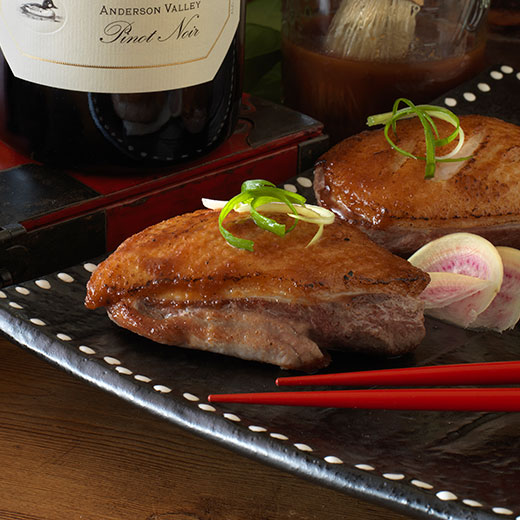 Yield: 3 Cups
Prep: 10 minutes | Cook: 35 minutes
Total Time: 45 minutes
Ingredients
1 ½ cups Hoison sauce
1 can chopped tomatoes
1 Yellow Onion, chopped
½ cup Ketchup
½ cup Brown sugar
½ cup Soy sauce
4 Garlic Cloves, smashed
1 Tbsp Ground or Instant coffee
2 Tbsps Ginger powder
¼ cup Mirin
¼ cup Lime Juice
1 Tbsp Cornstarch
1 Tbsp Fish sauce
Preparation
Combine all ingredients together in blender except lime juice cornstarch and fish sauce and puree until smooth in blender. Put puree in 2‐quart saucepot and simmer for 30 minutes.
Whisk in lime juice, cornstarch and fish sauce, remove from heat and cool. Serve with Grilled Duck.
Take a look at our recommended pairing below.
Pairing Recommendations - Pinot

Summer Case Sale!
95 Points - Wine Enthusiast