Broccolini on Burrata Toasts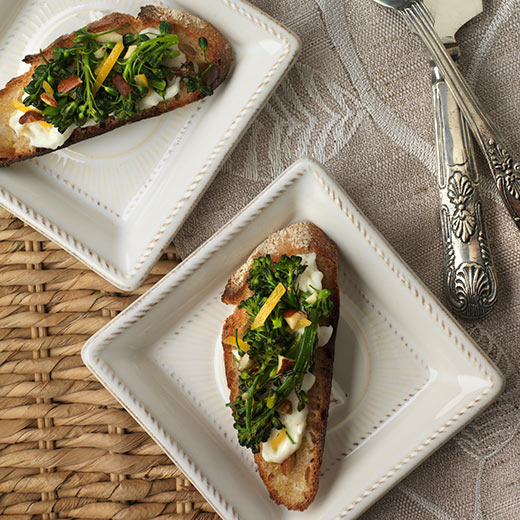 Yield: 4 - 6 servings
Prep: 10 minutes | Cook: 20 minutes
Total Time: 30 minutes
Ingredients
2 Bunches broccolini - chopped small including stems and leaves
¼ Cup almonds (hazelnuts and walnuts will do) toasted and chopped
2 Tbsps finely chopped preserved lemons (remove pith) - can substitue zest
1 Tbsp lemon juice
3-4 Tbsps olive oil
Salt and pepper to taste
Pinch of chili flakes
Burrata cheese - about 1 cup
Crostini 16-20
Preparation
Preheat oven to 400 degrees
Chop Broccolini into small pieces and put on sheet pan. Toss with olive oil and salt and pepper and roast in oven for 10-15 minutes, checking occasionally for desired doneness.
Remove from oven and set aside. Prepare remaining ingredients.
After broccolini has cooled briefly put in a bowl and add preserved lemons, lemon juice, pinch of chili flakes and mix. Taste and season with salt and pepper.
May need to add more olive oil if dry and a bit more lemon juice if needed.
Crostini:
Slice baguette thinly and brush with olive oil and sprinkle with a little salt and pepper.
Roast in oven for 10-15 minutes until desired crispness.
Serve
Spread each toast with a layer of cheese and then spoon some broccolini mixture on top and serve.
Take a look at our recommended pairing below.
Pairing Recommendations - Bubbles