93 Points - Wine Enthusiast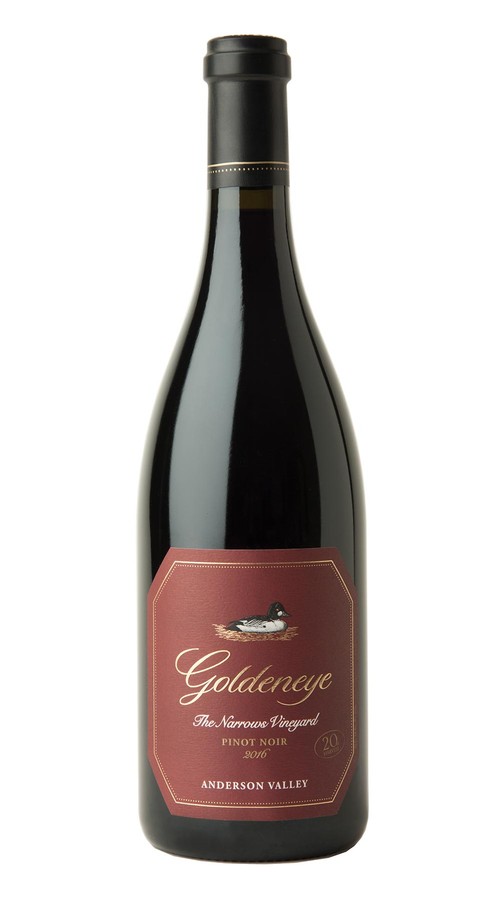 2016 Goldeneye Anderson Valley Pinot Noir The Narrows Vineyard
Situated on a narrow ridgetop at the northernmost tip of the Anderson Valley, The Narrows Vineyard is a historic mountain ranch planted with mature Pinot Noir vines. A mere 10 miles from the rugged Mendocino Coast, this vineyard is affected by strong marine influences that produce summer fog and cooler daytime temperatures. It is the perfect setting for growing grapes of great intensity that embody the vineyard's rugged beauty and wildness.
The Narrows is my favorite Goldeneye Wine. I love this wine because I really feel as though it captures the essence of Anderson Valley. It's dark lush fruits and mushroom influenced earthiness really differentiates it from other Anderson Valley pinots. I love that you can smell and taste the forest floor that surrounds this vineyard with a full body and beautifully rounded finish. I love sharing this wine with my friends and family!
Wine Profile
Winemaker Notes
Always one of the Anderson Valley's most distinct and dramatic expressions of Pinot Noir, this beguiling wine begins with aromas of moist spring forest floor, rich blackberry, ripe plum and truffles. On the palate, rustic hints of pennyroyal, pine and wild mushrooms add complexity to the rich, dark berry flavors, while firm tannins and an age-worthy texture carrying the wine to a long, layered finish.
Production
The 2016 growing season delivered another exceptional vintage to the Anderson Valley. Early and consistent spring rains provided for an excellent fruit set, followed by ideal summer temperatures, which brought the acidity and flavor profiles of the grapes into perfect balance. This sequence led us to begin harvesting our warmer estate vineyards beginning in mid-August, while a well-timed mid-September heat spike allowed our grapes in the cooler "deep end" of the valley to develop beautiful structures and lush flavors.
Wine Specs
Wine Specs
Appellation
Anderson Valley
Vineyard Designation
The Narrows Vineyard
Harvest Date
September 30 - October 3, 2016
Sugar
26.0° Brix at harvest
Acid
0.478 g/100 ml titratable acidity
Aging
16 Months in Barrel
Fermentation
15 days fermentation at 75°F
Product Reviews
Add a Review
Product Reviews
William V. Sweeney
(Nov 8, 2019 at 2:01 PM)
I really enjoy this wine. This is the type of wine that really highlights what the winemaker can do. It's a top choice from a top label and producer. I can really see why this is a "staff pick." It's really delicious and shows the experience of the winemaker. Let me begin by saying I'm a big Pinot Noir guy. It's a great red that's robust enough to hold up with most food but not quite the tannin-bomb as, say, a Cabernet can be. This is a really well balance Pinot, that's a fantastic mix of fruit and earth. This is a wine that's powerful and bursting with flavor, but not enough to overwhelm the drinker. It's quite enjoyable overall. It's a really great wine to sip but also to enjoy with food. Well-rounded and a great value for such a high quality wine. I completed this review in exchange for compensation and free product, but all views are my own.
Becca Mills
(Nov 9, 2019 at 6:41 AM)
WOW. It was love from first sip. This Pinot Noir has body without being overpowering, is smooth with a beautiful finish, and very drinkable. I loved pairing it with a hearty mushroom pasta, it complimented the earthy undertones of the wine. Highly recommend! I completed this review in exchange for compensation and free product, but all views are my own.
Elizabeth Mayberry
(Nov 9, 2019 at 7:50 PM)
Great wine! Very earthy and harvesty feeling! It was perfect for our Friendsgiving dinner as the rich, mushroomy flavor paired so well with the meal. It was a great wine to celebrate with our friends!
I completed this review in exchange for compensation and free product, but all views are my own.