Watermelon Salad with Champagne Vinaigrette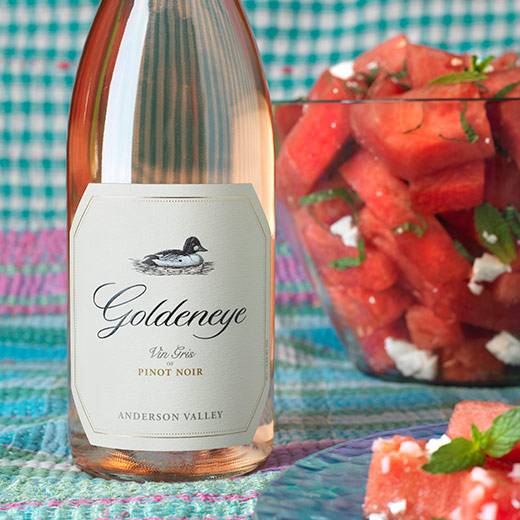 Yield: 6 servings
Prep: 10 minutes | Cook: 10 minutes
Total Time: 20 minutes
This watermelon salad is summer ia bowl with a light dressing, hint of mint and of course yummy cheese. It's always a crowd-pleaser but feel free to adjust ingredients to taste - feta can be swapped for mozzarella for a little less bite. However you assemble, be sure to pair with Goldeneye Vin Gris for a colorful summer table everyone will love.
Ingredients
1 Seedless Watermelon, peeled and sliced into 1/2 in pieces
1 Bunch Mint, leaves cleaned and chiffonade or roughly chopped
1 block of Feta Cheese, crumbled
1 medium Shallot
1 tbsp honey
¼ cup Champagne Vinegar
¾ cup Canola Oil
Salt & Pepper to Taste
Preparation
For the Champagne Vinaigrette, mince the shallots and cover with Champagne Vinegar for 10 minutes.
Add Honey and whisk in Oil until fully combined. Season to taste with salt and pepper.
Slice the Watermelon into rectangle strips about ½ inches wide x 3 inches in length.
Cover the watermelon with the vinaigrette.
Serve
Serve with chopped mint and crumble Feta.
Take a look at our recommended pairing below.
Pairing Recommendations - Vin Gris of Pinot