Mac and Cheese with Mushroom, Bacon & Peas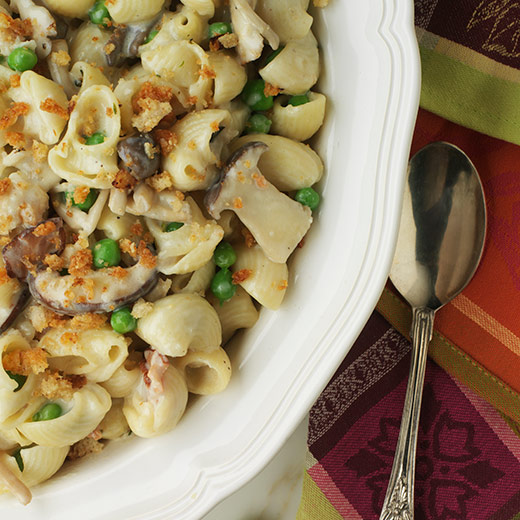 Yield: 6 -8 servings
Prep: 10 minutes | Cook: 45 minutes
Total Time: 55 minutes
Macaroni and cheese doesn't need much of an introduction, but this elevated twist deserves a place in your winter meal rotation. It's easy to whip up and will look like it took hours to create. Multiple layers of cheese are the key - each lending it's own unique profile to the dish, but by adding a hint of freshness with peas and of course bacon - there's nothing stopping this from becoming an all time favorite. Enjoy generous portions with a glass of Gowan Creek Pinot Noir.
Ingredients
1 lb Macaroni noodles
1 ½ lbs Assorted mushrooms, sliced
1 Tbsp Fresh thyme, chopped
1 large shallot, chopped
2 Cloves garlic
3 Tbsps olive oil
4 Tbsps butter plus 3 Tbsps more for sautéing
4 Tbsps Flour
4 cups whole milk warmed
2 cups smoked mozzarella shredded
2 cups Italian fontina shredded
1 cup parmigiano grated
1 ½ cups shelled blanched fresh peas
6 Slices crisp bacon, chopped
½ tsp freshly grated nutmeg
Salt and pepper to taste
Toppings:
1 ½ cups breadcrumbs toasted and crumbled
½ cup grated parmigiano grated
Pinch salt and pepper
Freshly grated nutmeg
2 tsps thyme chopped
¼ - ⅓ cup olive oil or butter
Preparation
Preheat the oven 400 degrees
Cook Pasta and set aside. Gather your ingredients and have in bowls ready to go before you begin cooking.
Heat 3 Tbsp butter and 3 Tbsp olive oil on medium heat, add shallot and garlic and pinch of salt and saute' for 5 min.
Turn the heat up to medium-high and add mushrooms; stir well to incorporate the shallot/garlic so as not to burn. Stir constantly until juices are released from the mushrooms about 5-8 minutes more so they are slightly soft.
Put mushrooms in a bowl and set aside.
In the same pan melt 4 Tbsp butter and add 4 Tbsp flour on medium heat stirring and making a rouge - cook for about 3-5 min. Turn heat off, add freshly ground nutmeg.
Slowly add warmed milk whisking until all is incorporated, stir well, then slowly add the 3 cheeses stirring and mixing until you have a nice cheese sauce.
In a large baking dish approximately 9x12 deep incorporate pasta and cheese sauce, add bacon bits and peas and stir until well mixed. Sprinkle breadcrumb topping over top of pasta evenly.
Bake in the middle of oven for approximately 20 minutes, and then broil for another 3-5 minutes to crisp up topping. Serve immediately.
Take a look at our recommended pairing below.
Pairing Recommendations - SV Pinot
94 Points - Wine Enthusiast

94 Points - Wine Enthusiast