Winemaking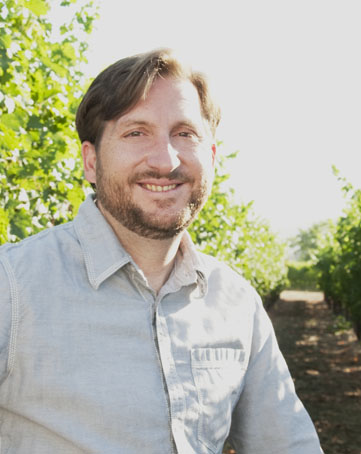 In the story of great winegrowing appellations, there are always a few wineries that help to raise the bar and chart the course for a region. As a Pinot Noir specialist, and the winemaker for Goldeneye, Michael Fay is building on the valley's reputation as one of the world's preeminent locations for growing Pinot Noir. At the same time, his belief in a vineyard-inspired, small-lot approach to winemaking is cementing Goldeneye's status as one of North America's great Pinot Noir wineries.
MICHAEL FAY
Winemaker for Goldeneye
Michael was born in Vicenza, Italy, near the winegrowing region of Friuli, and was raised in Southern California. While working in the restaurant industry and studying forestry management at the University of Washington in Seattle, Michael discovered a passion for West Coast Pinot Noir. "I was studying forestry management because I wanted to cultivate a relationship with nature, but my growing love of Pinot made me realize I didn't want to make paper, I wanted to make wine." In 2000, Michael transferred to Cal Poly to study enology and viticulture. He also took a job in the vineyards at Cambria Estate in Santa Maria. It didn't last long. "My vineyard work was meticulous, but I was really slow!"
Moving to winemaking, Michael joined the cellar team at Firestone. His talents quickly became apparent and he was soon promoted to cellar master. Eager to focus more on Pinot Noir, in 2002 Michael returned to Cambria as enologist, where he honed his skills under noted winemaker Denise Shurtleff. In 2007, Michael became assistant winemaker. In this position, he helped to grow the winery's Pinot program, with a focus on small-lot, clone and site-specific bottlings. He also actively helped to guide the Pinot Noir estate program, with an emphasis on vineyard planting and clonal selection. In addition to his role at Cambria, in 2007 Michael also became the winemaker for Santa Maria's Los Alisos Wines, where he oversaw all aspects of the winery's estate program.
In 2012, Michael became the handpicked successor to renowned Goldeneye winemaker Zach Rasmuson (who continues with the company as COO). "I'm in the fantastic position of being able to learn from Zach, while continuing his work." Working with the valley's most diverse and expansive estate Pinot Noir program (which includes over 200 vine acres and more than 20 distinctive clones), Michael makes terroir-inspired expressions of Pinot Noir that balance depth and power with Pinot's natural elegance. To achieve this goal, Michael ferments over 200 individual lots of Pinot Noir each vintage, or roughly one fermentation for every acre farmed. He is also continuing the measured fine tuning of the Goldeneye style begun by Zach, picking at lower Brix and dialing back the amount of new wood used during aging. "As a winemaker," says Michael, "my goal isn't to speak for the wines, it is to allow the wines to speak for themselves, so that their essential Anderson Valley-ness shines through."