Plan An Event
Goldeneye - Anderson Valley

Goldeneye began making premium quality Pinot Noir from its estate winery in the Anderson Valley in 1997. We are dedicated to crafting wines of refinement and elegance from a rich palette of terroir-inspired fruit. The winery's beautiful grounds are the perfect background for your next event with a farmhouse style tasting room and an outdoor terrace and patio framed by the striking landscape of our Confluence Vineyard set amongst a backdrop of redwood trees. We offer exquisite menus created to complement our acclaimed Anderson Valley wines that can be tailored to occasions of any style guaranteeing a unique and memorable experience for you and your guests.

Group Venue Options: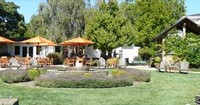 Goldeneye Farmhouse
The Goldeneye Farmhouse tasting room is an intimate indoor setting for private wine focused dinners of up to 40 guests and elegant receptions for up to 60, available year round.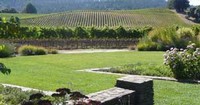 Vineyard Terrace
The Vineyard Terrace provides sweeping views of the Confluence Vineyard and an intimate outdoor setting for private dinners of up to 18 guests, available May 25- Oct 15st (weather permitting).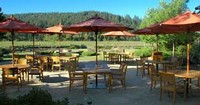 Vineyard Patio
The Vineyard Patio provides sweeping views of the Confluence Vineyard and a gorgeous outdoor setting for receptions for up to 70 or private dinners of up to 38 guests, available May 25- Oct 15st (weather permitting).
Group Tasting Options:
Seated Essentials Tasting
With enticing views of vineyards and Redwood trees, Goldeneye is a beautiful location to sample and savor some of Anderson Valley's most acclaimed Pinot Noir wines. This tasting includes our current-release Pinots as well as wines from our Migration label.
Elevated Experiences
For those guests interested in learning about both Goldeneye and the Anderson Valley, this wine tasting experience is sure to please! The experience begins with a short tour of our Confluence estate vineyard, followed by a guided tasting with one of our wine educators.
Custom/Private Group Tasting
We can customize events to fit your needs! Contact us to discuss your requests in detail.
Group Events - Capacity
Outdoor standing: 1,000
Outdoor seated: 250
Indoor standing: 40
Indoor seated: 25